Last price update at Anthropologie:
£3498.00
Check the price today at Anthropologie »
There might be a sale!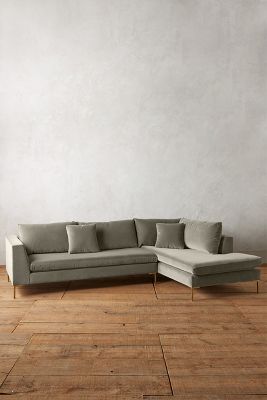 International Delivery Information at Anthropologie:

Where do we deliver?

Anthropologie.eu ships throughout the UK and Europe:

UK Mainland, Republic of Ireland, Northern Ireland, Channel Islands, Scottish Highlands, Isle of Man, Austria, Denmark, Belgium, Netherlands, France, Germany, Luxembourg, Italy, Czech Republic, Slovakia, Spain, Finland, Portugal, Malta, Poland, Hungary, Astonia, Cyprus, Slovenia, Sweden, Norway, Switzerland Bulgaria, Latvia, Lithuania, Romania, and Greece.

Postage costs from £5 to £32 depending upon where you live

CLICK HERE for more details Information about

Velvet Edlyn Right Corner Sofa - Grey

: Boasting clean lines and a neatly proportioned seat, this velvet-upholstered respite is inspired by modern Italian design, complete with down-wrapped cushions, brass legs, and a gently reclining back. For a fabric swatch request, please email [email protected] comOur furniture specialists would love to help you find the perfect piece. Call our friendly team on 00800 0026 8476 or email [email protected] eu

This product is available to buy from

Anthropologie

Anthropologie - Offering an eclectic assortment of clothing, accessories and home

You might want to have a look around the Anthropologie website to see what other products they have. Click

here

to go to the Anthropologie homepage.
---
Buy Velvet Edlyn Right Corner Sofa - Grey from Anthropologie