Last price update at Bloomingdales:
£150.86
Check the price today at Bloomingdales »
There might be a sale!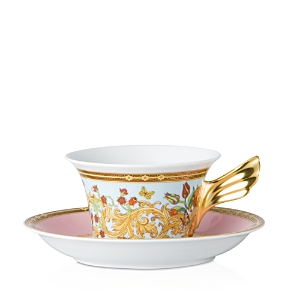 Information about

Rosenthal Meets Versace Butterfly Garden Low Teacup

:

Gianni Versace's artistic influence in the world of fashion was virtually unparalleled. His legacy is carried on and translated for the table in its marriage with Rosenthal. Versace by Rosenthal is an extraordinary collection resulting in high quality tableware and giftware in contemporary designs. An enchanting garden in soft pastel shades and an opulent diversity of blossoms, berries, insects and ornaments all combine to playfully symbolize a perfect summer symphony.

This product is available to buy from

Bloomingdales

Bloomingdales - Shop at Bloomingdale's for designer dresses, clothes, shoes, handbags, home furnishings and more.

You might want to have a look around the Bloomingdales website to see what other products they have. Click

here

to go to the Bloomingdales homepage.
---
Buy Rosenthal Meets Versace Butterfly Garden Low Teacup from Bloomingdales